Hybrid Soapstone Woodstoves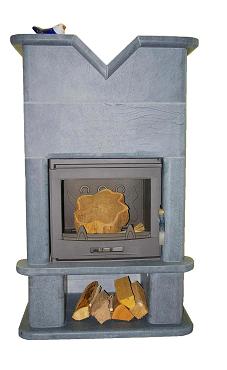 Thanks for your interest in our New Hybrid Soapstone Woodstoves.
These units have been developed to provide "maximum" radiant heat storage.
As well, the design of these soapstone stove units allows them to be easily dry stack pinned and assembled without mortar, by homeowners and do it yourselfers.
Our Hybrid Soapstone Woodstoves utilize a cast iron woodstove core in which the wood is burned. Surrounding the woodstove core is 2 3/8" thick beautifully crafted and finished soapstone veneer. The Soapstone absorbs, stores, and radiates heat... for hours after the fire is out.
These beautiful Hybrid Soapstone Woodstoves are a fantastic Green conscience decision that will save you time and money and help save the environment

After a single burn of wood, our soapstone units store the heat longer and more efficiently than any type of conventional wood burning stove, fireplace, or heater. This unique soapstone design distributes its radiant heat all day and night with little wood usage and very little attention.

We have installers available throughout North America and Europe.
Installation usually takes 6-8 weeks for our Hybrid Soapstone Woodstoves. We also work with designers and masonry heater specialists for custom cut stock and slabs.